Early & Pioneer
ALMOND, Peter Aviation
The Hulton Getty Picture Collection - The Early Years
---
A fine quality collection of early aviation photographs, well presented in a heavy and substantial volume.
BACON, Gertrude Memories of Land and Sky
---
Autobiography of Gertrude Bacon, who accompanied her father on pioneering flights and became the first woman to make a balloon flight in 1898. She was involved with pioneer aviation from the very earliest flights in 1909.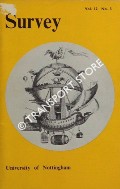 BLOOMFIELD, G. T. & COLE, J. P. The Early Aircraft Industry / Undeground Railway Systems
University of Nottingham - Survey, December 1962
---
Two of the main articles in this University of Nottingham Journal.