Pre-Grouping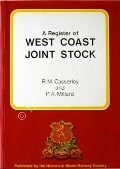 CASSERLEY, R.M. & MILLARD, P.A. A Register of West Coast Joint Stock
---
Detailed work on the pre-grouping carriages of the LNWR and Caledonian. Illustrated throughout with photographs and diagrams. A softback of over 300 pages, the binding was weak for the size and hence examples are often shaken or have loose pages.
COOPER, Peter LSWR Stock Book - The Preserved Locomotives, Carriages and Wagons of the London and South Western Railway
---
ELLIS, Hamilton Railway Carriages in the British Isles from 1830 to 1914
---
Classic study and history of carriage development, a much revised and enlarged edition of Ellis' 'Nineteenth Century Railway Carriages' (see separate listing). Illustrated with diagrams and photographs throughout, together with colour plates.
FOSTER, Colin, FLEMING, J.M.; Dawson John B. & others North Eastern Record
Volumes 1 to 3
---
Superbly detailed illustrated study of the NER and the Hull & Barnsley Railway. Three volumes cover an overall study of the appearance of the railways, rolling stock and locomotives.
GEDDES, Howard & BELLASS, Eddie Highland Railway Liveries
---
A very fine study of all aspects of Highland liveries, covering locomotives, coaching stock and wagons, as well as lineside infrastructure. Illustrated throughout with photographs, diagrams and drawings.
GOULD, David Bogie Carriages of the South Eastern & Chatham Railway
Oakwood Series X52
---
GOULD, David Bogie Carriages of the London, Brighton & South Coast Railway
Oakwood Series X54
---
HARRIS, Michael Great Northern Railway and East Coast Joint Stock Carriages From 1905
Oakwood Series X56
---
HIGGINS, Mike & ROCKETT, Bernard Glyn Valley Tramway Coaches - A Definitive Guide for the Modeller and Enthusiast
---