Caledonian Railway
British Railways 100 Years of the Central
Commemorative booklet recording the history of Glasgow Central Station, opened by the Caledinian in 1879.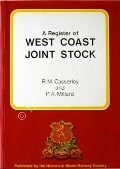 CASSERLEY, R.M. & MILLARD, P.A. A Register of West Coast Joint Stock
Detailed work on the pre-grouping carriages of the LNWR and Caledonian. Illustrated throughout with photographs and diagrams. A softback of over 300 pages, the binding was weak for the size and hence examples are often shaken or have loose pages.
CLARK, A.J.C. Caley to the Coast or Rothesay by Wemyss Bay
Oakwood Library of Railway History OL119