Underground, Industrial & Other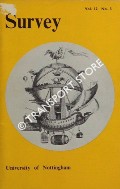 BLOOMFIELD, G. T. & COLE, J. P.
The Early Aircraft Industry / Undeground Railway Systems
University of Nottingham - Survey, December 1962
Two of the main articles in this University of Nottingham Journal.
FIGUIER, Louis
Les nouvelles conquêtes de la Science - Grands Tunnels et Railways métropolitains.
Volume in a series of four on railways and canals, published in the 1880's. This part covers tunnels and metropolitan railways across the world. Fine diagrams and plates throughout.